Why Pay a Commission When You Don't Have To?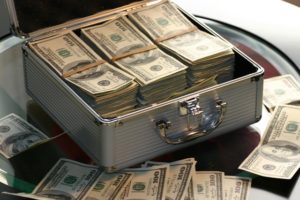 My Clients Have Saved Over $165,000 in Commissions (since 2017). 
I Only Charge for Legal Services. Brokerage Services are Free.
My fees are a fraction of what Realtors charge, yet my residential real estate clients receive the benefits of flat fee legal representation and my free brokerage services. Whether it be listing a house on the MLS, Zillow, Trulia and all the IDX sites or helping a buyer purchase a home, I can provide better services to my clients and save them money while protecting their interests up to or through closing. Plus, I don't charge junk fees and I NEVER engage in dual agency – dual agency is illegal for lawyers (and it should be illegal for Realtors).
$500,000 House Buying Example:
If you hire a Realtor to help you buy a $500,000 house, they collect $13,500 (2.7% of $500,00), charge you junk fees, steer you into conflicted title firms and try to sell you home warranties. If you hire me to help you buy the house, I collect that $13,500 and I refund the entire amount to you. I ONLY represent your best interests and avoid even the appearance of impropriety. My typical legal fee for a transaction this size is $4,375. You save $9,125 by using me instead of a Realtor.
Why is this possible? Because Realtors charge far too much for the services that they provide.
Buyers Are Forced to Pay For Buyer Brokers 
Most buyers find the house they want to buy without a Realtor. "DIY" buyers often think that they can save money by dealing directly with the listing agent. What buyers don't understand is that the typical Realtor's listing contract entitles the Realtor to collect the full commission even if the buyer is unrepresented. If you try to renegotiate that listing contract by asking the listing broker to collect less, you are likely interfering with their fee agreement which could cause you legal problems. Instead of saving money, most DIY buyers end up forfeiting their right to obtain their own representation AND forfeiting their right to negotiate the buyer broker's fee. My service is designed to help consumers avoid these problems and get them the entire buyer brokerage fee.
Selling a $500,000 House Example:
If you hire a Realtor to list your house, you can expect to pay a 6% (sometimes 5%) commission. Even if your listing agent finds the buyer, you're still out $30,000 in commissions (plus junk fees). Plus, if the Realtor's brokerage firm is representing both you and the buyer, your agent is legally prohibited from helping you negotiate. Dual agency prohibits agents to advocate for one party to the detriment of the other. Dual agency occurs when the same brokerage firm (even with two different agents) represent the buyer and seller in the same transaction. If you hire me, and you want to offer 2.7% to buyer brokers through the MLS, that's the only commission you will pay. My legal fees will be approximately $4,000 and you will save approximately $12,500. And I will advocate on your behalf and NEVER engage in dual agency.
If the buyer is unrepresented, you only pay my fee for a savings of approximately $26,000.
Note: there are extra charges to order a sign and for professional photographs.
Why Do I Give Away the Commission?
I've started this service because I've had too many clients unfairly forfeit enormous sums of money to Realtors. As a consumer protection attorney who has spent his career fighting the corruption in residential real estate, it has been my goal to help clients change this practice one transaction at a time. I receive a fair fee for my legal services and it just happens to be far less than what Realtors charge. I feel it is important to protect my clients' interests, especially when it comes to forfeiting thousands of dollars at the closing table.
My Fees
I have a flat fee schedule for home buyers and sellers. The fees vary depending upon the level of service you desire. I only represent residential real estate consumers and I work with a limited number of clients. Let's talk.